Open

http://office.cloudappsbackup.com/

in your browser
2. Click Sign in to services. Select the service you want to sign in to.
3. Sign in with your work or school account.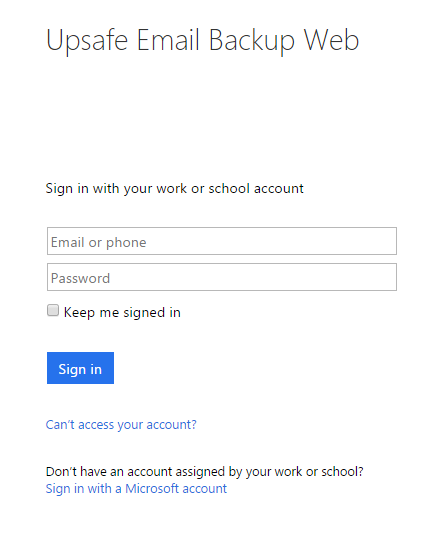 4. Grant permission to your data.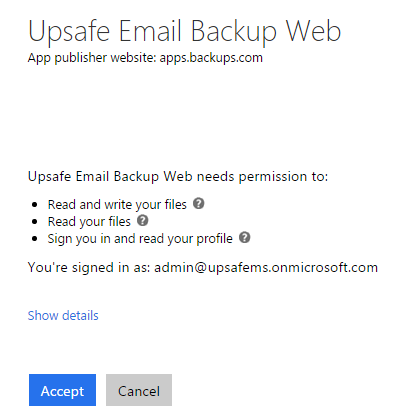 5.  Grant permission to your data.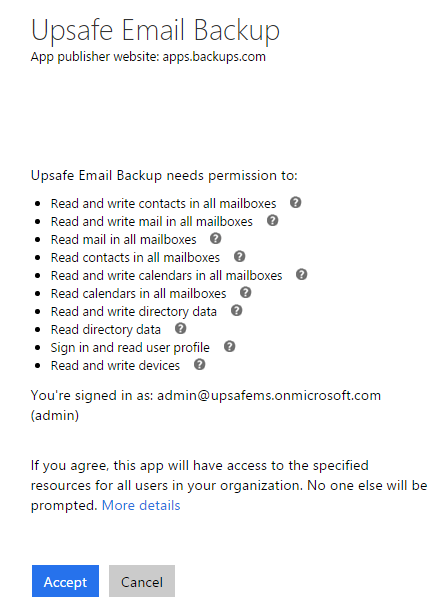 6. On the Dashboard page, you can select services to backup for your domain by clicking Configure Backup. After selecting services click Save. By default, all services are ON.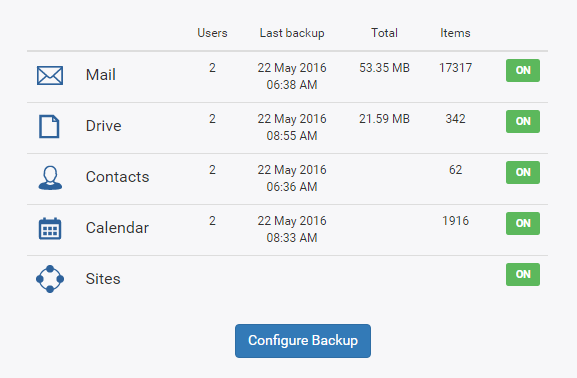 7. On the Users page, you can add users to backup, disable or enable backup services for each or for all users.

8. In order to add new users click the refresh icon.

9.  In order to exclude users from backup, click the ON/OFF button.

10. You can select services you want to back up for each user. Click the gear sign to enable/disable services for a user.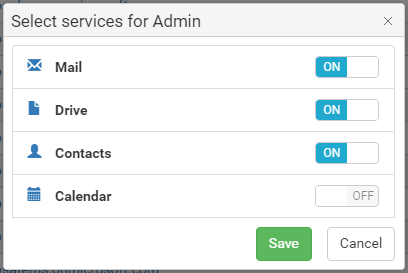 11. Service icons indicate the state of services. Blue is for enabled services. Grey is for disabled services.

12. Click the enabled service icon to open a related page.

13.  If all users are disabled on the Users page, click Add all to backup button to enable all users.


14. Click any user from the list and you will be brought to the Mail backup page. Currently, there are no items to display because we have not yet performed the backup.


15. You can manually backup the user quickly. Click the Backup now button. Give it a moment to finish backing up and then you can refresh the page.

16. Now you will see a list of all email messages that have been backed up.

17. You can sort messages by email folder.

18. You can see the email subject, who sent them, who received the email messages, the date, the archive date, the size.

19. Click the drop-down arrow next to the email subject and you can see a quick preview of the email content including text and images.

20. Click this button and an email message will open in a separate browser window.

21. Now that your mailbox has been backed up you can restore any message to your email account. Click any email to select it and then click the Restore button and choose Restore Selected Messages. The email will be restored to your email account. Sign in to your email account and navigate to the Restore folder and here you can see the email we just restored.

22. Your OneDrive has been backed up together with emails. Click on the Drive page. You will see a list of your OneDrive items. Each item contains a list of revisions. Each revision can be downloaded on your computer. In order to accomplish that, left-click a revision that you want to download.

23. Click the Contacts page. You will see a list of your Office 365 contacts. Each contact contains a list of revisions.

24. Click the Calendar page. You will see your Calendar Events.

25. In order to back up O365 SharePoint, you should sign in as domain administrator. Click the SharePoint page. Run backup manually or wait for the scheduled backup to occur. Each backed up item contains a list of changes and revisions that can be restored or downloaded.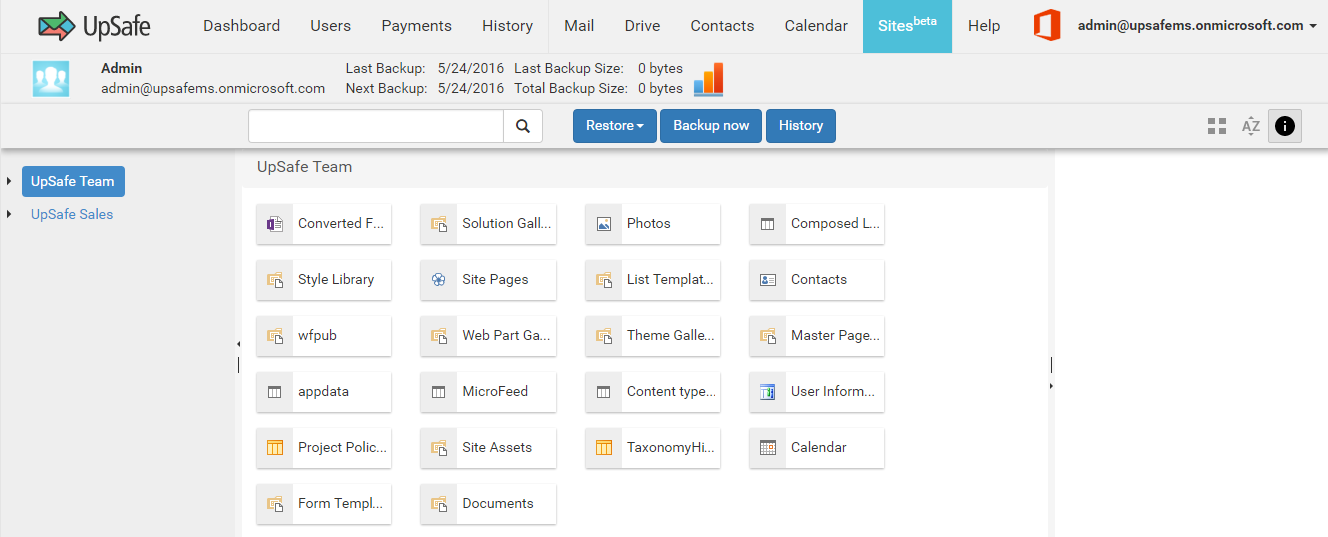 26. If a user is not selected for backup, then the user will not be able to sign in to the Office 365 Backup.

27. You can add alternate email addresses to your users and use them to sign in, recover passwords, delete backups. Click the key icon associated with the user you want to add the alternate address on the Users page.
28.  In the pop-up window, enter the alternate email address and password. You can use any email, it even doesn't have to be an Office 365 address. Once you've clicked the Save button, you should receive a verification message at the email address you just entered. Click the verification link in the email sent to your alternate email address.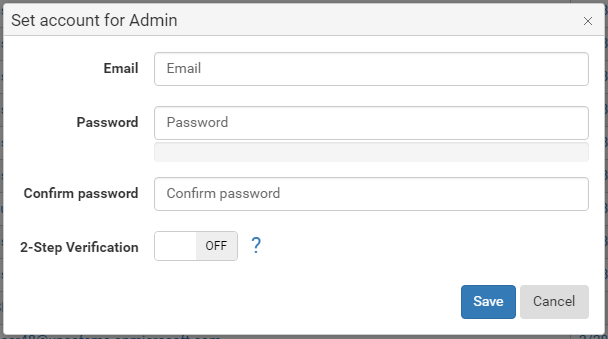 29. After adding the alternate email address, enable 2-Step Verification if you need to have an extra layer of protection. Enter your alternate email password. Scan the barcode, enter the 6-digit verification code generated by the Authenticator app and click the Save button.
Please follow the steps below to install the Google Authenticator app.
1. On your phone, go to the Google Play or Apple App Store.
2. Search for Google Authenticator.
3. Download and install the application.
Now open and configure Google Authenticator.
1. In Google Authenticator, touch Menu and select "Set up account."
2. Select "Scan a barcode."
3. Use your phone's camera to scan this barcode.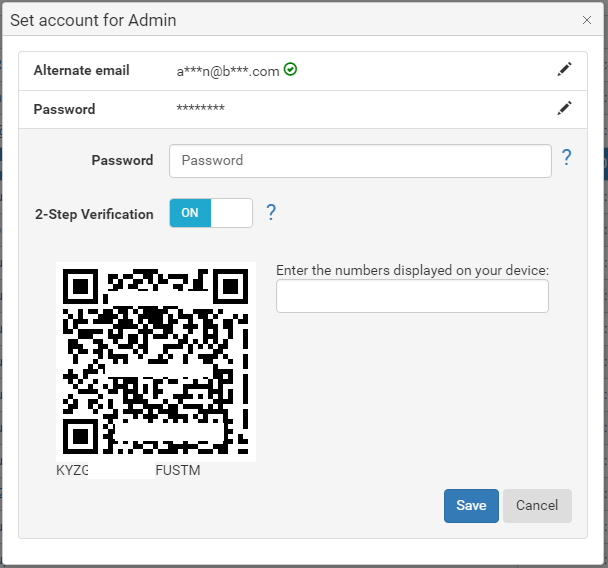 30. To delete user backups click the Bin icon. Enter your alternate email address password. Click Delete Backup.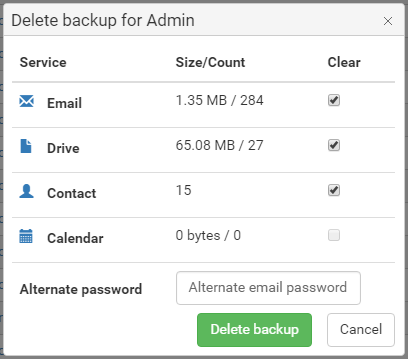 31. User permissions. There are two non-admin features that are disabled by default: the ability to restore items and sign in to the Cloud Apps Backup. A lock icon indicates which features are available. Gray color means all features are disabled. Yellow color means one of the features is disabled. Green color indicates that all features are available. To set user permissions, click on the corresponding lock icon or the Permissions button.


The backup is scheduled to run at least 4 times a day automatically